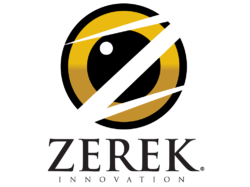 The Zerek Hook Packs offer anglers an easy to use and manage way to alter the weights or change the hooks on their soft plastics.
Within the range are replacement hooks to suit specific Zerek Lures, however, don't be fooled into thinking only these lures will benefit from these replacement hooks.
The Marsh Slider Hook Packs are for the big lures in the range. With two differently weighted worm hooks in each pack, anglers can choose to plumb the depths or have a slower, more natural drift towards the bottom.
The Live Shrimp Hook Packs come in three sizes to suit the 2". 3.5" and 5" Live Shrimp, but they will perform equally well in the Flat Shads, any jerkait style plastic such as the Live Flash Minnow Wriggly and of course in any of the many shrimp patterns available.
The Live Cherabin Hook Pack is designed to be used in the 4" Live Cherabin and with three different weights to choose from, anglers can manipulate their Live Cherabins like never before.
Of course, all hooks in the range come chemically sharpened for the ultimate in penetration.
With a wide range of hook sizes and weights, there are options galore for any soft plastic lure fisher, whether that's using shrimp profiles, stick baits, jerkbaits or paddle tails.
| | | | | |
| --- | --- | --- | --- | --- |
| Code | Description | Hook | Weights | QTY |
| ZHPLS2 | Zerek 2" Live Shrimp Hook Pack | 2 | 1g, 3g | 4 |
| ZHPLS3.5 | Zerek 3.5" Live Shrimp Hook Pack | 3/0 | 2g, 4.5g. 7g | 3 |
| ZHPLS5 | Zerek 5" Live Shrimp Hook Pack | 5/0 | 4g, 8g, 11g | 3 |
| ZHPLC4 | Zerek 4" Live Cherabin Hook Pack | 4/0 | 3g, 7g, 9g | 3 |
| ZHPMS5/0 | Zerek Marsh Slider Hook Pack 5/0 | 5/0 | 14g, 22g | 2 |
| ZHPMS8/0 | Zerek Marsh Slider Hook Pack 8/0 | 8/0 | 20g, 28g | 2 |
| ZHPMS12/0 | Zerek Marsh Slider Hook Pack 12/0 | 12/0 | 35g, 45g | 2 |
Zerek Range Plastics
| | | | | | | | |
| --- | --- | --- | --- | --- | --- | --- | --- |
|   | ZHPMS5/0 | ZHPMS8/0 | ZHPMS12/0 | ZHPLS2 | ZHPLS3.5 | ZHPLS5 | ZHPLC4 |
| LFMW70 |   |   |   | Y |   |   |   |
| LFMW90 |   |   |   |   | Y |   |   |
| LFMW110 |   |   |   |   |   | Y | Y |
| LFMW130 | Y |   |   |   |   | Y |   |
| Flat Shad 3.5 |   |   |   |   | Y |   |   |
| Flat Shad 4.5 |   |   |   |   |   | Y | Y |
| Flat Shad 5 | Y |   |   |   |   | Y |   |
| Flat Shad 7 |   | Y |   |   |   |   |   |
| Flat Shad 9 |   |   | Y |   |   |   |   |
| Live Shrimp 2 |   |   |   | Y |   |   |   |
| Live Shrimp 3.5 |   |   |   |   | Y |   |   |
| Live Shrimp 5 | Y |   |   |   |   | Y |   |
| Live Cherabin 4 |   |   |   |   |   |   | Y |
| Live Cherabin 6 | Y |   |   |   |   |   |   |
| Live Shrimp Hot Legs 4 |   |   |   |   | Y |   | Y |